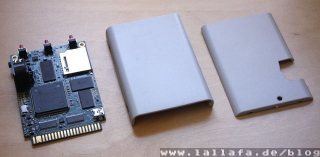 Recently, I got the amazing U1541 cartridge from Gideon. Unfortunately, the cartridge comes without a case and the standard module cases for a C64 cartridge do no fit. Without a case the setup is quite unstable so I decided to create an own one…
At reichelt.de I found a quite suitable case model named SD 10 GR for the price of about 1 EUR. It does not fit exactly, but at least the width of the cartridge matches and the lower half already holds the PCB nicely. First I cut of the right part of the case to make it shorter and so the height of the cartridge matches. Now with a lot of filing/rasping a created holes for the buttons and the connectors. Voila the lower part already matched.
The upper of the case is too tall to fit in the expansion port of the C64. So I first cut off 8 mm around the cap. Again filing/rasping added the holes for the connector and the LEDs.
Finally, I added 6mm distance pads inside the lower case half to move the PCB to the right level and closed the case. Now I still need to keep the case closed… Currently some tape does the trick. Maybe later on I glue the thing together 😉
Here is a gallery of my U1541 Case: