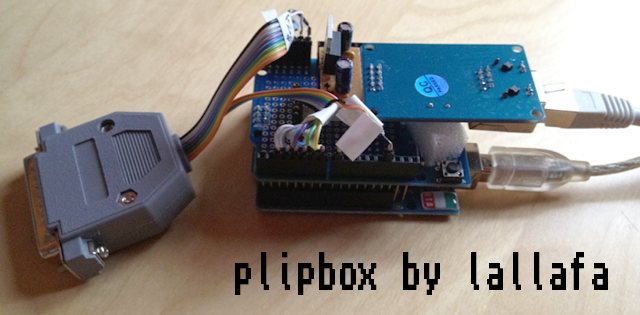 What is it?
plipbox is an Arduino-based device that allows to connect low-end classic Amigas via Ethernet to your local network. It bridges IP traffic received via PLIP on the parallel port of the Amiga to the Ethernet port attached to the Arduino.
Introduction
With the plip2slip project I already presented a device that uses a cheap AVR 8 bit microcontroller (as found on the popular Arduino boards) to bridge network traffic from the Amiga's parallel port (with the MagPLIP protocoll) to another machine via a fast serial link.
plipbox extends the plip2slip project and replaces the serial link for IP traffic with an on-board Ethernet port. This allows you to connect your Amiga directly to your local network without any other machine assisting.
With the on-board Ethernet port the plipbox HW is more complex than the plip2slip HW, but I tried to use common and easy available HW modules to simplify the recreation of this device. This allows even novice users to build their own plipbox. (See the hardware document for details).

Firmware Releases
The current release is:
The firmware for plipbox is open-source and hosted on GitHub: plibbox@gitbub. Clone this repository if you want to build the firmware yourself or if you want to play around with it.
Documentation
Quick Start Guide
Build the hardware (see Hardware page)
Flash the firmware

Connect the device to your Mac/PC via USB only
(no Amiga or Ethernet connection yet!)
Flash the supplied firmware file with avrdude (see Firmware page)

Optional: Configure plipbox via serial terminal

Since 0.3 firmware should work out of box with default settings. Configure is only needed for special settings and for diagnosis (see step 4 and step 5) and debugging.
Setup your terminal program on your Mac/PC to connect to the plipbox firmware
See Firmware page for command reference

Test Ethernet Connectivity

Connect your plipbox to the Ethernet (keep PC terminal connected)
Have a look in the serial terminal: If you can see a eth: link up then everything seems to work fine.

Test Amiga PLIP Connectivity

Setup networking on your Amiga (see Amiga Setup page)
Connect device to Amiga (keep Ethernet and Mac/PC link)
Enable plipbox.device on your Amiga
Have a look at the plipbox terminal: plip: link up tells you the magPLIP device was successfully detected!
Ping directly from your Amiga (call ping command in CLI):

ping a host on your local ethernet (use numeric IP first then name)
ping a remote host
ftp/telnet/do whatever to test the network

Ok, plipbox seems to work!

Standalone Operation

Disconnect Mac/PC and stop terminal program there
Use a USB power supply to supply the Arduino with power
Connect Ethernet and Amiga to plipbox
Have fun!